Bespoke Welded Mesh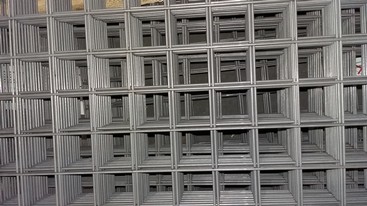 RFA-Tech is one of the Market Leaders in the UK specialising in the manufacture of Bespoke Mesh. Based at our Barnsley site, the factory offers a totally flexible approach which allows us to meet the expectations of our customers, both in product variables and delivery timelines.
The fully automated equipment allows your products to be manufactured quickly and effectively with the capacity to operate 24-hours a day 7-days a week. This, in turn, offers a prompt and reliable service to all customers guaranteeing all deadlines are met accordingly. Our facilities include: -

• High specification welding machines;
• Design specialist using AutoCAD;
• New manufacturing bay

Other machines on site include - Clifford Automated Welding Machines, Shears, Nibblers and Wire Cutters, etc.
Quality Assured
Our bespoke steel mesh panels are welded from bright-drawn mild steel wire to a BS-4482 Standard, being electronically welded at every intersection to ensure the product's resourcefulness. As standard, the mesh is supplied without further treatment, however, a variety of finishes are available upon request.
All industrial mesh panels are subjected to in-house testing in both wire and finished format, thus meeting the BS-4482 requirements. Our welded mesh intersections are then randomly selected from the finished panels and tested in accordance with BS-4483 section 13.2. Dimensional checks are performed and recorded during production to comply with the requirements of BS EN ISO 9001:2000.

ISO 9001 and CARES Accreditation achieved.
Application
Welded Mesh is both a strong and versatile product that provides practical solutions throughout the manufacturing sector. Some examples of where the application can be used are listed below;
Gabions

• Roll Containers
Stillage's

• Security Grilles/ Window Guards
Bed Bases • Safety Guarding & Barriers
Cable Trays