Dextra Rolltec Rebar Couplers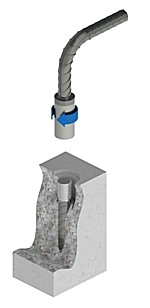 Rolltec® is a CARES Approved rolled parallel threaded mechanical splicing system designed for the connection of concrete reinforcing bars from diameters Ø12 to 50 mm.
Rolltec® couplers comply with ACI 318, IBC 2006, BS 8110, Eurocode 2, DIN 1045, CalTrans, ASME Sec III Div 2.
Key Benefits
Practical and economical alternative to laps.
Simple process: only one machine, one operator.
Fast cycle time: less than 30 seconds per thread.
Same coupler model for standard splicing and position splicing (when none of the rebar can rotate).
Easy installation, no torque wrench required.
Shortens construction cycle times.
Splicing Methods
Standard Splice
Position Splice
Caging Splice
Transition Splice
For further information download the Rolltec Brochure here.