Startabox Continuity Systems

The concept and use of reinforcement continuity strip systems or 'pull-out bar' systems has been widespread in Europe, and further, over the last 30 years and is a widely accepted means of providing reinforcement continuity across construction joints in concrete. The system utilises the concept of overlapping reinforcement to provide a connection.
RFA-TECH has been involved in manufacturing this product type since the inception and has over 30 years of manufacturing experience. The Startabox system provides a safe and cost effective method with time and labour saving factors. The system is designed and custom made utilising the engineer's original reinforcement detail.
The Startabox system consists of specially selected, high yield reinforcing steel, housed in a fully perforated and hot dip galvanised carrier unit. The unit ends are sealed to prevent the ingress of concrete. The reinforcement used is CARES Approved and cut and bent to conform to BS8666. The system is assembled in a BS EN ISO 9001 factory environment and the full system carries a CARES Technical Approval.
The units are used on site by nailing to formwork, prior to a concrete pour. Alternatively, units can be wire tied to the main reinforcement arrangement. After concrete is poured and the formwork then struck, the lid is removed to provide the connection or overlap bars. The bars are bent out of the case to provide an overlap connection to the main reinforcing steel and next concrete pour.
The case design offers an efficient key and rebate and requires no further joint preparation. The perforated casing ensures that the product remains embedded in the structure when striking the formwork and concrete and case become a composite material. The case remains in the joint and is filled with concrete on the subsequent concrete pour.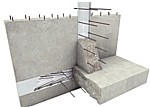 Applications
Most joints in concrete, on many different types of construction site, have the potential to be formed using Startabox. Startabox has been supplied to high rise commercial, water treatment, hospitals, prisons, Energy from Waste Facilities and many more types of site.
Typical joint applications include: -
Wall
Floor Slabs
Corbels
Stair Landings
Cantilever Slabs
Launder Channels
Brick Support Nibs
Balconies
Precast Slab Interfaces
Stairways Applications
For further information download our Technical Solutions Brochure