Web-site Re-launch!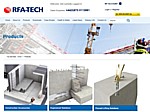 We are pleased to confirm the re-launch of our web-site.
As part of the ongoing development of our range of products and services, we have updated our web-site with the following enhancements: -
The addition of many new products.
A new fresher, brighter and cleaner appearance.
Greater product information and Technical Data now available for download.
Improved product search functionality with filter buttons to assist greater ease of product selection and navigation.
Later this year we hope to introduce the development of further functionality to help our customers access order status and delivery information on-line.
Case Studies
We want our customers to think
first of RFA-Tech and join us in a
partnership of co-operation in
the promotion of Best
Practice in our industry.
Read More
Delivery Information
Fast, reliable and on time
delivery to suit your construction
requirements. Click the link
below to see full delivery
details and pricing.
Read More