Shear Dowel Connector
The Geoconnect Shear Dowel Connector is a unique CE marked product that is designed to carry large loads across expansion and contraction joints in concrete structures safely and efficiently. The Geoconnect Shear Dowel Connector is easy to install as well as being a cost-effective alternative to the more traditional methods of construction, such as Slab to Slab, Corbels, Keyed Joints or Floor to Column Connections.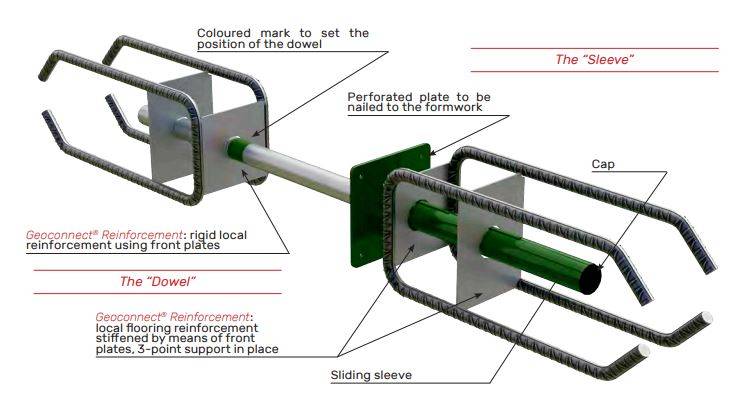 Each Geoconnect Shear Dowel Connector comprises of two locally welded reinforced pieces, a dowel bar and sleeve to allow movement on both sides of the construction joint. The additional rectangular sleeve allows both longitudinal and lateral movement to be accommodated, which is particularly important for corner situations, internally and externally. Available in five different diameters, the Geoconnect Shear Dowel Connector is a vital addition to an engineer's design option as it can be used within a range of concrete strengths, expansion/contraction joints, widths and floor thicknesses.
The Geoconnect Shear Dowel Connector has excellent mechanical properties, for instance; it has a high resistance to corrosion which is a necessity in construction as maintenance work is not possible once cast. What's more, The Geoconnect Shear Dowel Connector is available in both Stainless Steel and Mild Steel HDG.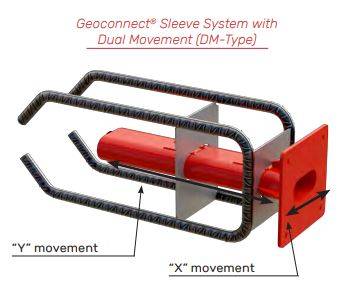 The Mild Steel HDG option is manufactured from 708M40 steel which is chosen for its wear resistance and high strength properties. Whereas the Stainless Steel Geoconnect Shear Dowel Connectors is manufactured in high resistance EN 1.4462 steel with improved anti-corrosion features according to EN 10088-3. Along with the increased resistance to corrosion, Stainless Steel has a better characteristic than the type AISI 316. Thereby meaning, the higher content of Chromium [Cr] in relation to austenitic steel types improves the resistance to corrosion and the Nickel [N] and Chromium content makes it particularly resistant to crevice and pitting deterioration
The Geoconnect Shear Dowel Connector is fully supported by an engineering department with a full set of load data and certificates available on request by completing the form below or calling RFA-Tech to discuss with a member of our team.
You can submit an enquiry request with the design conditions for your project by downloading our RFA-Tech and Geoconnect Shear Dowel Design Data Sheet. Diagrams are included to ease the process.
Click to Download
Geoconnect Shear Dowel Design Data Sheet